As you know Town Hall is now open to the public on Sundays from 12- 5 PM and Joe Frye the Guitar Guy has been killing it at Cedar Creek on Sundays at Town Hall. He's performed there most of July so hopefully you had a chance to come out and soak up some of the suds and sounds. In case you didn't make it out we captured some of his set on July 18th to share with you below. Joe will be back again at Town Hall on August 15th and again on August 29th.
This coming Sunday, August 8th and August 22nd we'll have Perry Thebeau, AKA TboLive, performing from 12-5.
See you there!
---
We wanted to give you an update on how the July 17th, Music For A Cause party went down at Cedar Creek. With your help we raised over $14,000 in support of Access Academies. Bravo!!!
It was a fun day with loads of dancing, great music, and good cheer. We captured some of the highlights of the day on film including a brief interview with Shelly Williams, the Executive Director at Access Academies.
Have a look and you might just want to make it out next time to join the fun!
---
We hope you've a had a great start to the summer and we're here to help kick it off right with live music, craft beer, and great grub at Town Hall! We are officially open to the public this coming Sunday, July 11th from 12PM to 5PM.
This week you can catch the musical stylings of Joe Fry the Guitar Guy, who will be performing on Sundays throughout July. Go Joe!
---
We've got something special to share with you today. Cedar Creek is throwing a party and you are invited!
The best part is that you can support Access Academies, a St. Louis based non-profit whose mission "propels middle school students who have been historically underserved through high school and on to college and career success with enrichment, counseling, and scholarships." 
On Saturday, July 17th you can show your support for underserved students by spending the day at Cedar Creek. The flyer below has the details. The event is open to all so spread the word and bring your friends!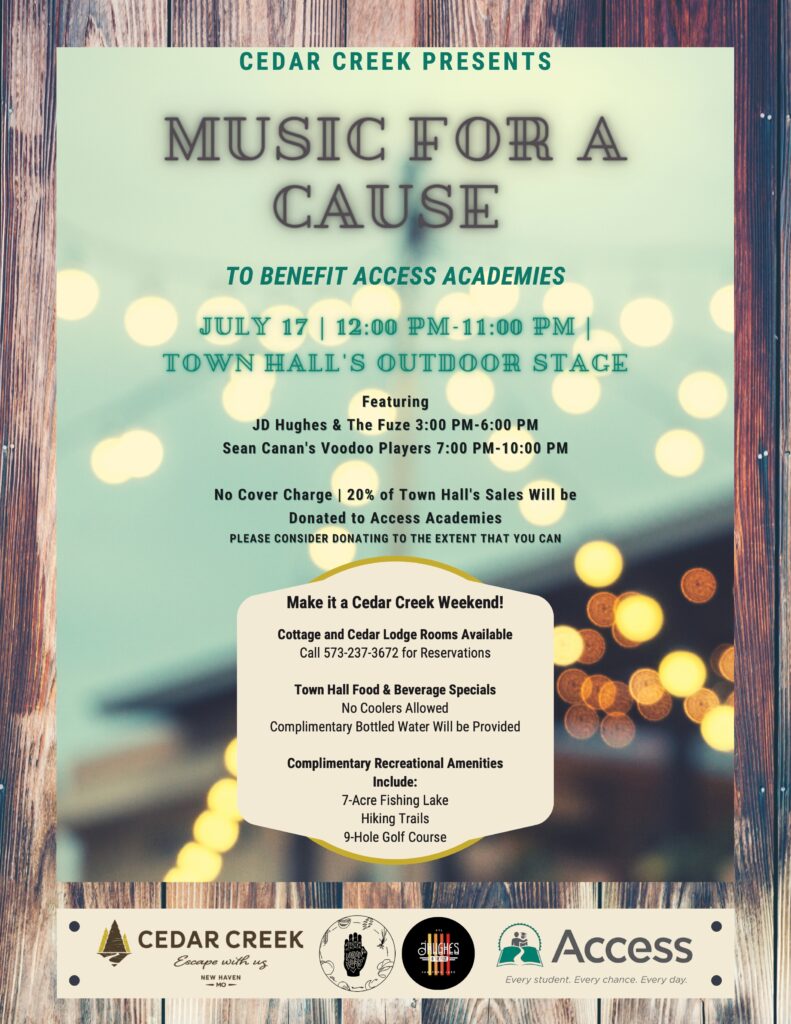 ---
Bring out the family and celebrate in style again at Town Hall!
Starting on Saturday, July 3rd, Town Hall is back with live music, craft beer, and great grub.
After that, we'll be open to the public on every subsequent Sunday starting on July 11th from 12 to 5 PM.
Spread the word and stay tuned for the music lineup and an updated seasonal menu.
See you soon!
---
Howdy folks and welcome to the blog! This is Cedar Creek's platform for highlighting family history, short essays, and stories that in some way have a connection to Cedar Creek. This place has a wealth of multigenerational family history and we'll be sharing that and some other things here. Consider this an introduction, if you will, to our online venue for storytelling. So tuck in and read on!
Improving Ourselves and The Property
2020 was one for the record books. The pandemic and subsequent lockdowns have left many of us yearning for a return to some type of "normal"—and hopefully with the widespread availability of vaccines we will get there soon. At Cedar Creek we remain cautiously optimistic. This past year many of us started working remotely, broadened our skill set, or were forced to cope with unforeseen challenges that left us feeling isolated but hopefully more resilient.
Like many of you, Cedar Creek spent 2020 improving itself. Instead of "waiting it out" we decided to invest in ourselves and have made substantial improvements to the property and added amenities to further serve our guests. And here's why: we want be in a position to serve you or your group when you feel comfortable returning to a destination retreat in a rustic setting packed with modern convenience.
After working remotely for more than a year it might be time to get away for some team building, partnership, family vacation, and to feel more connected with community again.
Here's a short list of what we've been working on:
Implemented Covid-19 protocols based on CDC guidelines for guests and staff.
Expanded the Swiss Chalet with an outdoor pavilion to increase capacity and for late night gatherings.
Renovated the iconic five bedroom 1860 Manor House with modern facilities.
Constructed a music and performance stage for special events and group activities.
Upgraded and installed fiber optic internet for an ultra fast connection and security.
Redesigned www.cedarcreekcenter.com with a better reservation system, this updated blog, and engaging visual layout.
If you haven't been out to visit us for a while then you're in for a pleasant surprise. Keep us in mind when you are ready to meet again and we'll be ready to serve!
---
Exercise increases blood flow and oxygen levels in the brain. It also encourages the release of the brain chemicals (hormones) that are responsible for the production of cells in the hippocampus, the part of the brain that controls memory and learning.  This, in turn, boosts concentration levels and cognitive ability, and helps reduce the risk of cognitive degenerative diseases such as Alzheimer's.
Exercise increases energy levels
Exercise improves both the strength and the efficiency of your cardiovascular system to get the oxygen and nutrients to your muscles.  When your cardiovascular system works better everything seems easier and you have more energy for the fun stuff in life.
Exercise improves muscle strength
Staying active keeps muscles strong and joints, tendons and ligaments flexible, allowing you to move more easily and avoid injury. Strong muscles and ligaments reduce your risk of joint and lower back pain by keeping joints in proper alignment. They also improve coordination and balance.
The more you exercise, the more calories you burn.  In addition, the more muscle you develop, the higher your metabolic rate becomes, so you burn more calories even when you're not exercising.  See our page: Activities for more information.
The more you exercise, the more calories you burn.  In addition, the more muscle you develop, the higher your metabolic rate becomes, so you burn more calories even when you're not exercising.  The result?  You may lose weight and look better physically which will boost your self-esteem.
Exercise increases blood flow and oxygen levels in the brain. It also encourages the release of the brain chemicals (hormones) that are responsible for the production of cells in the hippocampus, the part of the brain that controls memory and learning.  This, in turn, boosts concentration levels and cognitive ability, and helps reduce the risk of cognitive degenerative diseases such as Alzheimer's.
Exercise reduces LDL cholesterol (the type that clogs your arteries), increases HDL (the good cholesterol) and reduces blood pressure so it lowers the stress on your heart.  Added to this, it also strengthens your heart muscle. Combined with a healthy diet, exercise lowers the risk of developing coronary heart disease.
Regular exercise lowers your risk of developing type 2 diabetes
Regular exercise helps to control blood glucose levels, which helps to prevent or delay the onset of type 2 diabetes.  Additionally exercise helps to prevent obesity, which is a primary factor in the development of type 2 diabetes.
Exercise enhances your immune system
Exercise improves your body's ability to pump the oxygen and nutrients around your body that are required to fuel the cells that fight bacteria and viruses.
Staying active reduces the likelihood of developing some degenerative bone diseases
Weight bearing exercise such as running, walking or weight training lowers your risk of both osteoarthritis and osteoporosis – the adage of "use it or lose it" really does apply to bones. Exercise may help to reduce the risk of certain cancers
Being fit may mean that the risks of colon cancer, breast cancer and possibly also lung and endometrial cancers are reduced. Studies by the Seattle Cancer Research Centre have suggested that 35% of all cancer deaths are linked to being overweight and sedentary. Active people tend to sleep better
Physical activity makes you more tired so you're more ready to sleep. Good quality sleep helps improve overall wellness and can reduce stress.
See our page The Importance of Sleep for more information. Exercise improves your mood and gives you an improved sense of well-being
Physical activity stimulates the release of endorphins which make you feel better and more relaxed.  These in turn improve your mood and lower your stress levels. Exercise can help prevent and treat mental illnesses like depression
Physical activity can help you meet people, reduce stress levels, cope with frustration, give you a sense of achievement, and provide some important "me time", all of which help with depression. Keeping fit can reduce some of the effects of aging
---
Everyone talks about getting "healthier". But it's tough isn't it? Especially when there are so many different ideas on what being "healthier" even means. If you are anything like me, none of these new health crazes understand the modern girl's lifestyle. We don't need a bikini body or to exercise till our eyeballs bleed. Nor do we want to beef up, bronze up or give up delicious cake. We just want to feel good and keep that muffin top at bay right? That, and truly rock a wiggle dress! Busy modern women, do not stress, here are my top 10 tips to get you healthier while keeping your sanity.
1. Get more greens! Green vegetables are the powerhouses of the food world, packed with vitamins, minerals and chlorophyll (that's the green bit), most of which are destroyed during cooking. The solution? Go raw. Better yet, juice or smoothie your greens to get the most into you and out of your veggies. Chlorophyll is amazing for your liver; it helps it work more efficiently. And that means you can process toxins better. A better functioning liver means less weight gain, less body odour and less nasty hangovers. Try my green smoothie recipe to help you get more greens in. If a smoothie is still too hard for you, you can take a tablespoon of liquid chlorophyll supplement each day instead.
2. Avoid wheat. Modern day wheat is not what our grand
The way we modify, farm and process it robs it of any nutrients. It's just bum glue. And it will do you no good. Right now, go to your cupboard and throw out anything with wheat in it. Get rid of store bought cakes, breads, biscuits, pasta and flour. Replace it with buckwheat (related to rhubarb not wheat), brown rice, quinoa and spelt.
3.  Drink Up! Water is the cheapest, best and most under-utilised anti-aging product ever. Seriously. Drinking more water will plump up your cells and literally push those wrinkles out. But how much is enough? Well you need 1 litre per 24kg of your body weight. For an average 70kg chick, you're looking at 2.9 litres per day. I know it sounds like a lot, but Rome wasn't built in a day. Keep working at it and you'll be surprised at how quickly you will adapt and a high water intake will become your norm.
4.  Keep bloating at bay. No one wants a pot belly food baby! Try the following:
eat light meals, avoiding heavy carbohydrates like rice, pasta and bread
drink warm water with a little lemon or apple cider vinegar squeezed in it
take a high quality probiotic tablet
drink peppermint, chamomile and/or fennel tea
5. Eat fat. It is a common misconception that eating fat makes you fat. Not true. Eating sugar and processed foods, stressing and sitting on you bum all day will make you fat. Eating fat however, will keep you trim and happy, because fat is needed to produce all your happy hormones. Include good fats like nuts, seeds, olive and coconut oils, avocados and small amounts of organic meat, fish and dairy into your diet every day.
6. Exercise. Exercise releases endorphins. Endorphins are those little things that run around your body and make you happy. And when you are happy, you don't want to staple thing to people's heads. Planned exercise is a great thing. I find scheduling a class at least once a week keeps me accountable because there are always people who will call me out on not turning up! Things like Zumba, yoga, pilates, body balance or pole dancing classes are fun and make you feel a bit sexy too.
7. At least move your body. With a life to live, you're a busy chick. Sometimes it's hard to make it to the gym or a class. Don't mean you can't still get some exercise in. The trick is to work it into your routine. Park your car further away from the shops, take the stairs to the office, address your mail standing up. Get creative and you will find a million and one ways you can get a bit more movement in your day.
8. Stress less. Feeling stressed causes the release of a hormone called cortisol, which in small doses is good for you, but when it hangs around too long, say the amount of time it takes to plan a wedding, it can hurt rather than help. Too much cortisol:
• suppresses your immune system, making you get sick easier
• makes you crave fatty and sugary foods
• damages the brain cells responsible for long term memory formation
Make sure you take some time out for yourself to make sure you don't become fat, sick and forgetful.
---
1. Improved Communication
Team building can build bridges between individuals through group participation in activities. People, who are not used to working in an outdoor setting, get a chance to work as a team. By working through a set task, multiple strengths are highlighted in a very positive manner. The result is the emphasis on good communication and the development of multiple ways to accomplishing this.
2. Develop Team Roles
Naturally humans have roles that they are best suited to. For example, some people are best focusing on the big picture and delegating work; while others are most effective carefully checking finished work. Team Building allow for each member of the team to find his or her niche in a positive emotionally safe environment.
3. Time to Develop Skills
It can be difficult for employees to develop new communication skills in an office setting. It is also a challenge to find out what additional skill an employee possess. Carefully designed Team Building activities allow each member of a team to take charge and develop leadership skills, as well as learning about their colleagues skills and communication style.
4. Better Relationships
Team Building at Cedar Creek allows for team members a chance to participate on a level of equal knowledge about any given challenge. In order to complete the task successfully, a team must draw on team process skills. The challenge of a new experience also requires employees to communicate and work together to solve the mental and physical puzzle. Working in close proximity in an outdoor environment helps develop team relationships quickly.
5. Culture
Team Building days can help to reinforce the values and vision of an organization and can contribute to its overall organizational culture. Sometimes team building programs reinforce culture other times they may actually evolve culture in a positive healthy environment.
---
Recently Engaged? Now What? The first FIVE steps in wedding planning.
It's finally official, you are engaged! After all of the selfies, snapping, and celebrating are over- now what? The first five steps every couple should take to planning their perfect wedding.
FIRST things first. Get that dirty word dealt with and knock out the BUDGET. Sometimes it's painful, but it is the first step in planning your dream day. Communication is key. Discuss with your families about who will be paying for what. Things to consider: stationary, dress & attire, rehearsal dinner, reception, ceremony, flowers & décor, music, photographer & videographer.
SECOND, identify a common VISION with your fiancé. Rustic Chic? Classic Romance? Elegant sit down? Or are you throwing an epic bash that you want everybody to remember. A good exercise is to close your eyes and play it out in your head. When you wake up on the day of your wedding, what will you do? Who will you see and how does it make you feel?
THIRD, what SEASON of year would you like to get married? Regardless of what your dream season is and why, thinking about the time of year helps you narrow down dates that will work. Keep in mind that you may often get good deals in the Winter, but Spring and Fall have become increasingly popular wedding seasons. Try to pick 2 to 3 dates.
FOURTH, choose your VENUE. Visit in person, it's often the energy of a space that strikes a chord. Meeting the team behind the venue is as important as the site itself. You will want to work with people you like!
FIFTH, get a manicure and tell the WORLD!
Click here for more information on our wedding offerings and packages.
---