Hi ya folks!
It's been a hot minute and we wanted to catch you up on some of the goings on out here at Cedar Creek. Mainly, how impressive and good looking you are and also how we fared for our Third Annual 'Music For A Cause' Festival to benefit Access Academies that was held in late July.  We put together a little highlight video to give you a sense of how the day unfolded.
MUSIC FOR  A CAUSE
It was a hot one, literally, so we moved all the festivities to our indoor venues where we could pump up the AC. This one change made the unbearable heat (it was north of 100F on the day if you recall) slightly more bearable and we had a tremendous turnout. Each band played a different venue. Starting at Town Hall, the duo Musicology kicked off things with a great set, then folks moved across the street and on to Carriage Hall where solo performer Stephen Wooley filled the room with his sonorous voice and guitar. Finally, closing out the night in absolute raucous stye at the Event Barn was the headliner, Sean Canan's Voodoo Players. Everyone had a blast and the event was a huge success in support of Access Academies. A big thanks to everyone who came out and donated! Bravo!
CARRIAGE HALL
Hmm, what's that you say? Carriage Hall? Well, we were hoping you might ask.
Carriage Hall is the newest venue at Cedar Creek and is currently accessed through the Saloon in the Western Town. It's where the old brewery used to be and where the vintage carriages are kept. We are in the process of transforming it into something special for cocktail parties and will keep you posted on a grand opening in the next few months. Keep your eye on this space because it will be something fun to celebrate!
---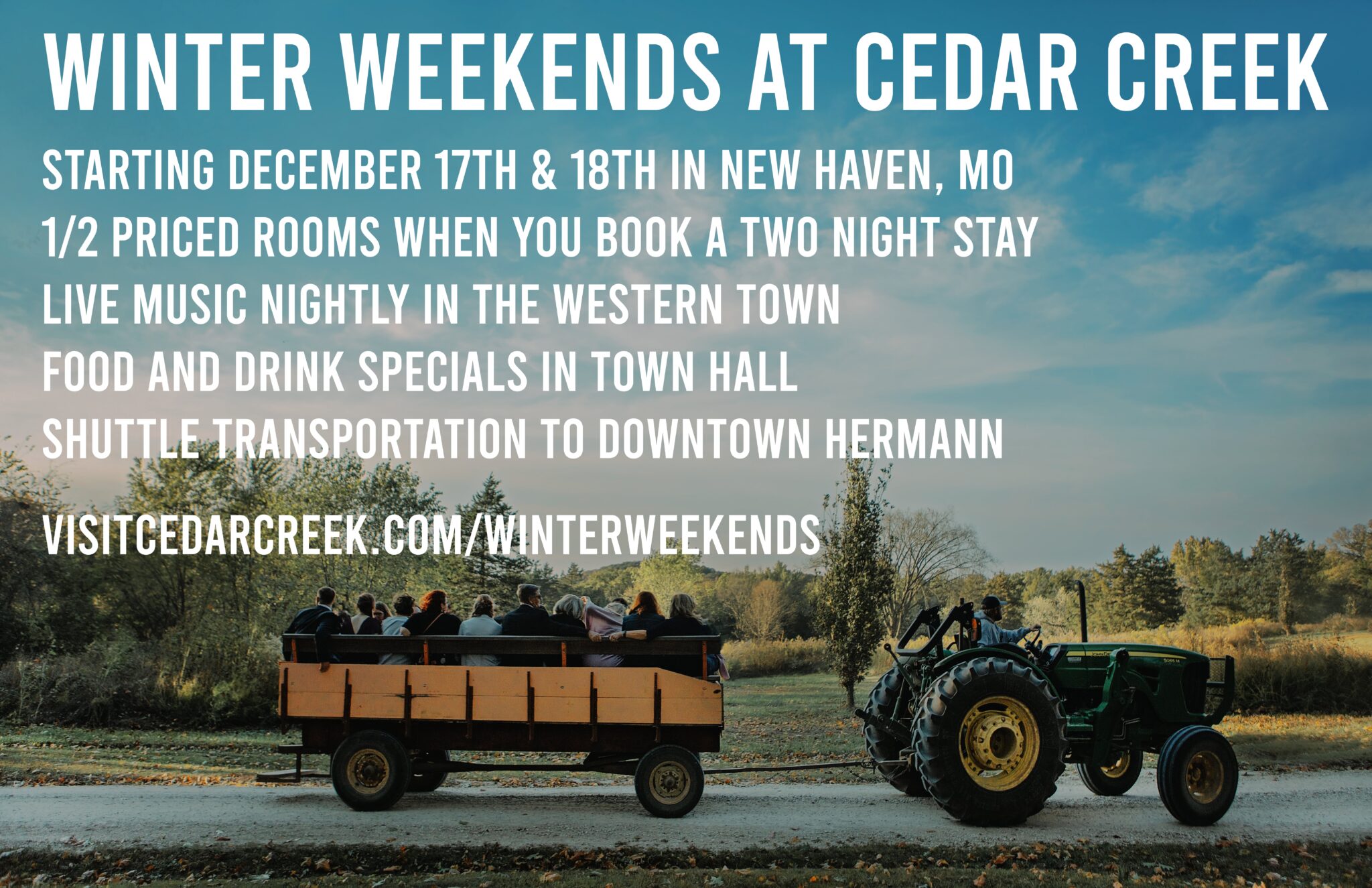 Make your Winter Weekends memorable and plan your stay at Cedar Creek!
Book a two night stay in any of our rooms on December 17th & 18th and receive the second night at 1/2 off the regular price. There will be live music on both Friday and Saturday night with the amazing Number 9 Coal band headlining on Saturday. If you had a chance to see them during our Oktoberfest weekend then you know you're in for some toe-tapping and genuine rug-cutting fun on the dance floor.
We'll be offering food and beer specials in Town Hall and all guests will have access to a trolley that will run on Saturday between Hermann and Cedar Creek. That way you'll be able to peruse downtown Hermann during the day (Cookie Walk anyone?) then head back to Cedar Creek for that sweet, sweet night life! Of course breakfast is always included for our overnight guests and you just might need it to recuperate all that vital energy you danced away the night before.
Make your reservation today while rooms are still available. See you there!
---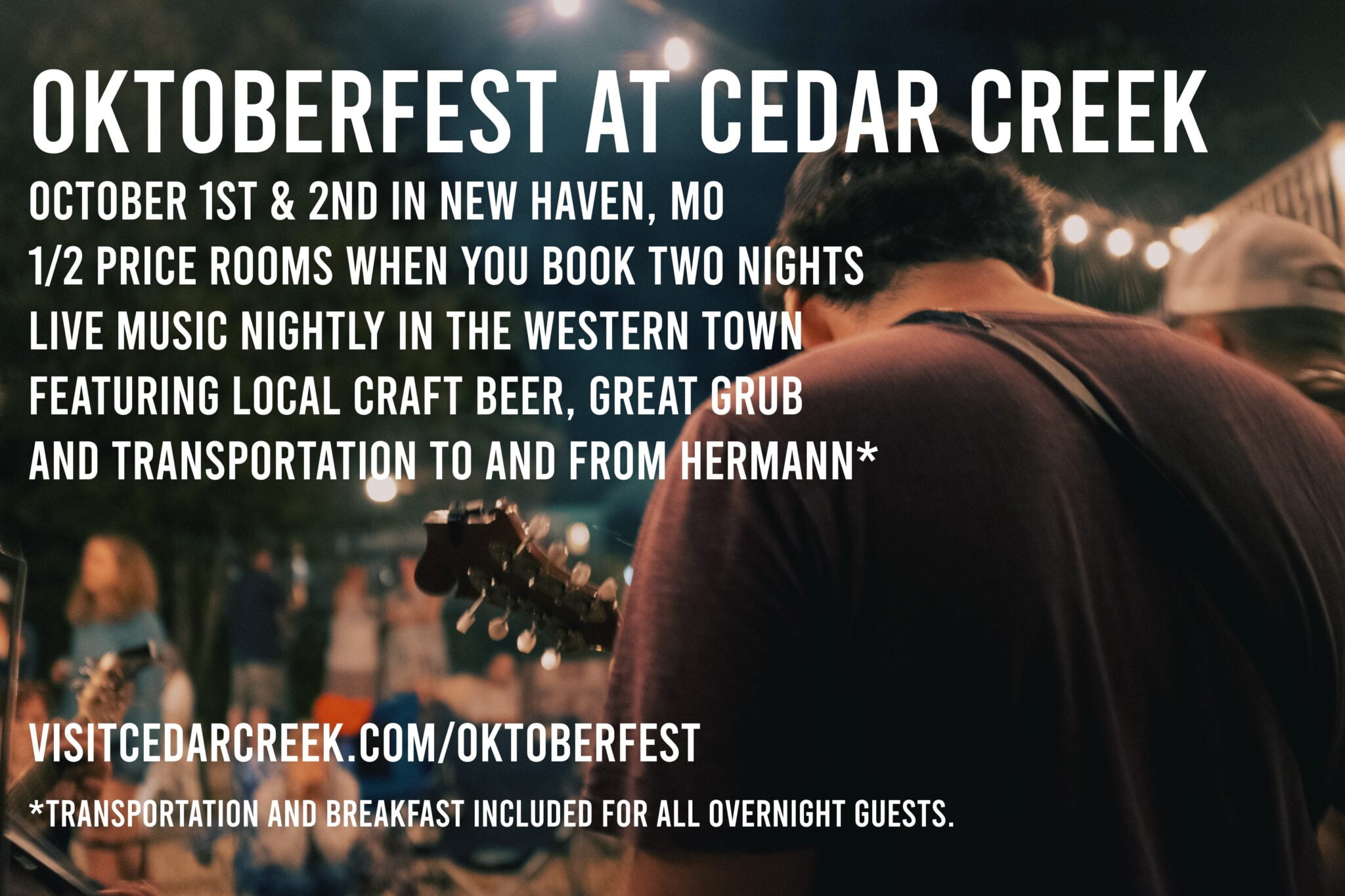 Make this year's Oktoberfest even more memorable and plan your stay at Cedar Creek!
Just like the flyer says above–when you book a two night stay on 10/1 and 10/2 in either the Cottages or Gatehouses you get the second night at 1/2 off the regular price. There will be live music on both Friday and Saturday night with food and beer specials in Town Hall. Plus, all overnight guests will have access to a trolley that will run on Saturday between Hermann and Cedar Creek from 10AM – 5PM.
Don't miss that last trolley! The party will just be getting started in the Western Town at Cedar Creek when it drops you off–so get ready to boogie to live music with your friends when you arrive. We'll have some seasonal beers on tap and some tasty eats in Town Hall for you to satisfy your appetite. See you there!
---
As you know Town Hall is now open to the public on Sundays from 12- 5 PM and Joe Frye the Guitar Guy has been killing it at Cedar Creek on Sundays at Town Hall. He's performed there most of July so hopefully you had a chance to come out and soak up some of the suds and sounds. In case you didn't make it out we captured some of his set on July 18th to share with you below. Joe will be back again at Town Hall on August 15th and again on August 29th.
This coming Sunday, August 8th and August 22nd we'll have Perry Thebeau, AKA TboLive, performing from 12-5.
See you there!
---
We hope you've a had a great start to the summer and we're here to help kick it off right with live music, craft beer, and great grub at Town Hall! We are officially open to the public this coming Sunday, July 11th from 12PM to 5PM.
This week you can catch the musical stylings of Joe Fry the Guitar Guy, who will be performing on Sundays throughout July. Go Joe!
---
Bring out the family and celebrate in style again at Town Hall!
Starting on Saturday, July 3rd, Town Hall is back with live music, craft beer, and great grub.
After that, we'll be open to the public on every subsequent Sunday starting on July 11th from 12 to 5 PM.
Spread the word and stay tuned for the music lineup and an updated seasonal menu.
See you soon!
---
Howdy folks and welcome to the blog! This is Cedar Creek's platform for highlighting family history, short essays, and stories that in some way have a connection to Cedar Creek. This place has a wealth of multigenerational family history and we'll be sharing that and some other things here. Consider this an introduction, if you will, to our online venue for storytelling. So tuck in and read on!
Improving Ourselves and The Property
2020 was one for the record books. The pandemic and subsequent lockdowns have left many of us yearning for a return to some type of "normal"—and hopefully with the widespread availability of vaccines we will get there soon. At Cedar Creek we remain cautiously optimistic. This past year many of us started working remotely, broadened our skill set, or were forced to cope with unforeseen challenges that left us feeling isolated but hopefully more resilient.
Like many of you, Cedar Creek spent 2020 improving itself. Instead of "waiting it out" we decided to invest in ourselves and have made substantial improvements to the property and added amenities to further serve our guests. And here's why: we want be in a position to serve you or your group when you feel comfortable returning to a destination retreat in a rustic setting packed with modern convenience.
After working remotely for more than a year it might be time to get away for some team building, partnership, family vacation, and to feel more connected with community again.
Here's a short list of what we've been working on:
Implemented Covid-19 protocols based on CDC guidelines for guests and staff.
Expanded the Swiss Chalet with an outdoor pavilion to increase capacity and for late night gatherings.
Renovated the iconic five bedroom 1860 Manor House with modern facilities.
Constructed a music and performance stage for special events and group activities.
Upgraded and installed fiber optic internet for an ultra fast connection and security.
Redesigned www.cedarcreekcenter.com with a better reservation system, this updated blog, and engaging visual layout.
If you haven't been out to visit us for a while then you're in for a pleasant surprise. Keep us in mind when you are ready to meet again and we'll be ready to serve!
---
1. Improved Communication
Team building can build bridges between individuals through group participation in activities. People, who are not used to working in an outdoor setting, get a chance to work as a team. By working through a set task, multiple strengths are highlighted in a very positive manner. The result is the emphasis on good communication and the development of multiple ways to accomplishing this.
2. Develop Team Roles
Naturally humans have roles that they are best suited to. For example, some people are best focusing on the big picture and delegating work; while others are most effective carefully checking finished work. Team Building allow for each member of the team to find his or her niche in a positive emotionally safe environment.
3. Time to Develop Skills
It can be difficult for employees to develop new communication skills in an office setting. It is also a challenge to find out what additional skill an employee possess. Carefully designed Team Building activities allow each member of a team to take charge and develop leadership skills, as well as learning about their colleagues skills and communication style.
4. Better Relationships
Team Building at Cedar Creek allows for team members a chance to participate on a level of equal knowledge about any given challenge. In order to complete the task successfully, a team must draw on team process skills. The challenge of a new experience also requires employees to communicate and work together to solve the mental and physical puzzle. Working in close proximity in an outdoor environment helps develop team relationships quickly.
5. Culture
Team Building days can help to reinforce the values and vision of an organization and can contribute to its overall organizational culture. Sometimes team building programs reinforce culture other times they may actually evolve culture in a positive healthy environment.
---
At the beginning of the summer, the Missouri Trucking Association came to Cedar Creek in an effort to build connections between the association's different trucking companies.
"No one really knew one another, and we wanted the group to spend time getting to know one another both personally and professionally," said Judy Stockton, Director of Business Operations & Meetings for the Missouri Trucking Association.
Since the primary goal of the retreat was building relationships and strengthening communication, Stockton contacted Jeni Grunzinger, Sales and Marketing Manager for Cedar Creek, to create an individualized retreat package that would help the group get to know one another in a fun and relaxing environment.
"Helping plan MTA's retreat was a lot of fun," said Grunzinger. "They took full advantage of the on-site activities, and scheduled a bonfire, 2nd Shift Brewing beer tasting, and a two-hour team building exercise led by one of our program coordinators on the low-ropes confidence course."
Early afternoon the group gathered for the low-ropes confidence course. About an hour into the exercise, the group was talking and laughing, but more importantly they were working together to overcome obstacles and challenges.
"The Wall was one of their favorite parts because we told them 'no' and it motivated them," said Stockton, who, when planning, took great care to ensure that the course was not too physically challenging for the group.
Originally designed as a resting point with waters and snacks, the group saw the Wall and asked if they could do it.
"We hesitated at first because the group had been on the course for a while already and it was quite hot," said Grunzinger.
However, the group could not be deterred, and began to strategize how to get their entire team from one side of the 15 foot wall to the other.
"They did it!" exclaimed Stockton. "Overcoming an obstacle they thought was originally impossible was a great moment for the group."
After the course, the group headed to the Western Town for their 2nd Shift Brewing tasting, which included five large samples and a pint before heading off to dinner and then the bonfire.
"We would definitely do it again! The group had a great time, and even expressed interest in getting their management teams out on the course," said Stockton.
[ngg_images source="galleries" container_ids="9″ display_type="photocrati-nextgen_basic_thumbnails" override_thumbnail_settings="1″ thumbnail_width="150″ thumbnail_height="100″ thumbnail_crop="1″ images_per_page="20″ number_of_columns="0″ ajax_pagination="1″ show_all_in_lightbox="0″ use_imagebrowser_effect="0″ show_slideshow_link="0″ slideshow_link_text="[Show slideshow]" template="default" order_by="sortorder" order_direction="ASC" returns="included" maximum_entity_count="500″]
To begin planning your group's meeting or retreat at Cedar Creek, contact us today, or fill out our group rates form online.
---
It is not uncommon to find our property packed during the week with companies, not-for-profits, governmental agencies, and religious organizations all trying to strengthen office morale, empower employees, and streamline operations through Team Building activities.
Team Building comes in a variety of forms. From brainstorming sessions, roundtable discussions, and professional development seminars in our meeting and conference rooms, to "get-to-know-you" games and hands-on activities held both inside and outside, we welcome and support your plans and ideas to make your retreat a success.
Moreover, because we have become a popular venue for retreats, we now offer a variety of Team Building Activities led by one of our program coordinators, who will work with you in advance to discuss your group's goals and objectives, and your current group dynamic to tailor a plan specifically for your team. Each experience is unique, but all are designed to encourage teamwork, taking overall performance to a new level.
Several of our most popular Team Building Activities include:
Our Low Ropes Confidence Course – Designed to challenge team members in a series of planned exercises that encourage valuable skills like Leadership, Teamwork, Trust, Cooperation, Communication, Problem Solving, Overcoming Obstacles, and Supporting Others.
Beer Tasting – Your group will experience the fine art of beer making and learn more about the raw ingredients used in the brewing process. Generous samples of at least 5 different beers will be tasted during this lively presentation. At the end participants will receive a pint of the beer they like the best! Snacks may be arranged per the Specialty Break and Hors D'oeuvres Menu.
Western Town BBQ – Enjoy a chuck wagon style barbeque dinner in a unique vintage western setting. Complimentary cowboy hat and bandana for each guest.
Wine Tasting Party – Guests will enjoy generous samples of fine wines. All are described by a wine expert as they are poured. Tasting sheets describing each wine will be provided to the guests for future reference. This is a great event for wine enthusiasts as well as beginners. Snacks may be arranged per the Specialty Break and Hors D'oeuvres Menu.
Mystery Dinner – This comical and entertaining show has many themes available. Guests are encouraged to dress in theme attire and interact with the show.
Campfire – Star filled skies, clean country air, and the warmth of a campfire is an excellent way to unwind after your meetings. Included in the set-up is building and lighting the fire, and all the makings for S'mores for your entire group.
Historic Hermann, Missouri Day Excursion – Take a winery tour and visit historic Hermann Missouri. Transportation provided by coach bus or limousine to and from Cedar Creek.
Golf – Our 9-Hole Par-3 Executive Course can be reserved for a friendly tournament or hole-sponsored contest.
Need help in the planning process? Download our Corporate Retreat Checklist, or contact Jennifer Buwalda, Manager of Meetings & Events, by calling 573.237.3672 ext. 510 or emailing contact@cedarcreekcenter.com.
---