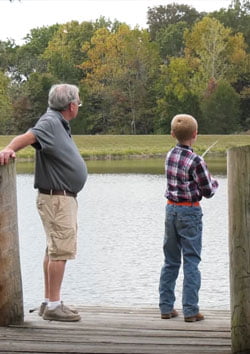 A Man's Guide to a Romantic Weekend Getaway
Valentine's Day is fast approaching. If you haven't started thinking about how you'll be taking part in this tradition, you'd better start now.
The possibilities of a fun outing are endless, but it might require delicate planning on your part to make sure the weekend goes smoothly. Take inventory of what she enjoys and plan a day around that. Don't forget to make sure the day includes something you enjoy, too.
If you come to Cedar Creek, you can participate in activities both together and separately — if that's what you choose. For instance, she can spend the afternoon on the hiking trail while you shoot some pool. Then, you can come together for a romantic four-course dinner made by the award-winning Chef Connolly in the evening.
Once you have your romantic weekend getaway all planned, you might be tempted to just go into cruise control and just "let everything play out", but remember that a lot of effort goes into building a great romantic weekend getaway. Make sure you have the details all locked down before you set out on your way.
If you're unsure of where to start, we have some tips to help get the ball rolling.
Planning Ahead
Sitter: If you haven't done so, now is the time to figure out arrangements for the kids. Will they stay with the grandparents or will you hire a babysitter for the weekend? If you choose to hire a babysitter, make sure a relative or someone close to your family is on call, just in case the sitter backs out at the very last minute. We won't give hard figures since each budget is different, but be prepared to pay the babysitter well. After all, it is for an entire weekend.
Reservations: This seems like an obvious task, but people do forget. For Valentine's Day at Cedar Creek, we are offering a four-course dinner in the Town Hall Restaurant prepared by our award-winning chef, Dennis Connolly, followed by dancing. Reservations aren't required, but they are highly recommended. And, of course, we welcome you to stay the night in our cozy Cedar Lodge or one of our beautiful historical houses on the property. If you're planning on joining us for dinner but staying at another hotel instead, we still recommend that you make reservations for dinner as far out as you can, even though they are not required. Having to wait around, hungry, with others who didn't make reservations can really kill the buzz of an otherwise flawless romantic weekend getaway.
Gifts: Gift giving is incredibly fun, especially when it's for someone you truly care for. But it can be tricky to figure out what she's going to enjoy most. For that, you may want to solicit the advice of a platonic female friend or even a sister. They can help you determine good gift ideas, and once you settle on a gift, they can go with you to help pick out the perfect brand, color, type and so on. Gifts can be very expensive, especially if you choose to buy something such as a designer purse, clothes or jewelry. We guys sometimes want to impress women by buying things a little out of our price range, but it's often not always the price tag that makes a gift perfect. Make sure you've already planned out how much you are able to spend and try to stick to that.
Finally, don't forget to buy a card, wrapping paper and a bow. Going all out with the presentation can really put a smile on her face.
The Friday Before
As you get closer to your romantic weekend getaway, you might once again be tempted to check in to Fantasyland and forget about the necessary preparations. DON'T! Keep in mind a few things right before executing Operation Romantic Weekend Getaway:
Outfits: You wouldn't want to make the trip all the way out to Cedar Creek (or any other place) and then realize you forgot your slacks and jacket for a nice dinner.
The little things: If you bought a present, make sure it's wrapped. Candles, a nice playlist and chocolates can go a long way and will surely make her smile. Take the extra step and think about the little things. You won't regret it. You might want to ask the hotel what they offer. For example Cedar Creek offers add on options for their guestrooms such as bottles of wine, roses & chocolate covered strawberries.
Double-check with the sitter: Make sure your sitter didn't forget and make other plans — the last thing you want is for that person to suddenly bail on you for better plans. (If that does happen, let's hope your mother loves her grandkids.) Also, make sure the sitter knows what time they need to arrive to your house and when they can expect to leave.
Saturday
The day has arrived. And, if you did everything right, all of the hard work has been taken care of and now your job is to simply enjoy the day.
Looking to make reservations for your romantic weekend getaway to Cedar Creek? Click here.