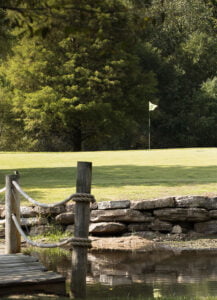 9-Hole Golf Course — "The Juniors"
Cedar Creek's 9-hole par three golf course is entertaining for novice and expert golfers alike. Originally built by Charles Vatterott Jr. in 1953 as a 3 hole course it was expanded in 2001 and reimagined and designed by John Vatterott Jr. to accommodate casual golfers and players looking to be challenged. The gorgeous scenery sets "The Juniors" apart and continues to delight players of all levels. The course offers an additional 10th hole for tournament play that can be viewed from the Wedding/Event Barn.
Overnight Guest Pricing
The golf course is a complimentary amenity to all overnight guests. Please call for information and to make your golf cart reservation.