Group Catering and Dining
Cedar Creek's house-made food is one of the many highlights your group will rave about. Using local, seasonal ingredients as much as possible, Cedar Creek's chefs will craft a menu specifically for your group. If you're looking for breakfast, lunch, dinner, desserts, snacks, a banquet, or an intimate setting, our chefs are here to serve you.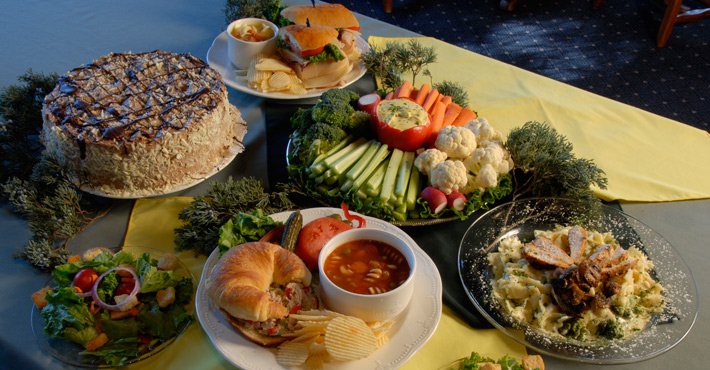 Meals are typically served in the charming and relaxed atmosphere of our Swiss Chalet. Our event coordinator will assist you in detailing your mealtimes and menu selections, including any dietary needs within your group. Each meal is hand-selected in advance and served at your specified mealtime to assist in maintaining an agenda for your meeting or retreat.
We are happy to serve any of your meals at your meeting location or in a variety of venues offered on property, such as the Town Hall, Saloon, The Barn, Pergola, & Chalet Garden Patio.
Along with serving traditional meals and beverages, Cedar Creek also offers special dining and drinking activities, including:
Western Town Barbecue
Our chefs will wow your taste buds with this succulent barbecue & all the fixin's served in our one-of-a-kind western town – cowboy hats & bandanas, included.
Wine Tasting
Located in the heart of Missouri's wine country, Cedar Creek offers wine tastings from Robller Vineyard and other local wineries.
Spirits Tasting
New Haven's very own Pinckney Bend Distillery is now featured at Cedar Creek. Sample the award-winning vodka, gin, and corn whiskey.