Sample Menu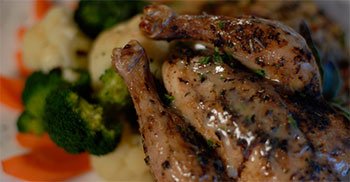 These are just a few of the specialties included in our full service menu. Our signature dishes are sure to satisfy.
Breakfast
MISSOURI MORNING
Housemade biscuits served with a creamy sausage gravy, scrambled eggs, and crisp slices of bacon.
SUNRISE FRENCH TOAST
Golden brown french toast accompanied by maple syrup and blueberries, and dusted with powdered sugar, served with sausage patties and cinnamon applesauce.
BREAKFAST STRATA
Hearty chunks of ham, zuchinni, and select cheeses, baked into light and fluffy eggs, served with chef's choice of petite french toast or pancakes.
Breakfast is served with chilled orange juice, fresh baked pastries, cereal, toast bar, seasonal sliced fruit, coffee and specialty teas.
Lunch
CHALET SALAD BAR
Fresh mixed greens, bacon, julienne strips of ham and turkey, cheese, a variety of fresh vegetables, and soup du jour, served with fresh baked garlic cheese biscuits.
CHICKEN POT PIE
Generous amounts of chicken breast and vegetables, baked to perfection inside a tender, flaky housemade crust.
BAKED LASAGNA
Layers of meat, rich tomato sauce, and a blend of cheeses, baked and served with salad and warm housemade bread.
DELUXE CHICKEN SALAD BLT
Our own housemade chicken salad topped with a generous portion of crisp bacon slices, served with lettuce and tomato on a garlic parmesan kaiser roll.
The above entrees are served with a chef's choice of soup or salad and housemade dessert.
Dinner
STUFFED FLANK STEAK
Flank steak stuffed with mushrooms, onions, bread crumbs, and a blend of cheeses, roasted to a golden brown, served with new potatoes.
SHRIMP SCAMPI
A generous portion of shrimp, sauteed in butter and herbs, served atop angel hair pasta.
GREEK CHICKEN
Tender breast of chicken, filled with feta cheese and spinach, lightly breaded and baked to perfection, served alongside confetti rice and a zuchinni-squash medley.
PRIME RIB (Minimum 10 Servings)
A generous tender and juicy prime rib, served with au jus and our own horseradish sauce, accompanied by a cheesy garlic potato bake and fresh steamed vegetables.
Dinners are served with chef's choice of vegetable, salad, housebaked bread and housemade dessert.